Nancy Pelosi tweeted this picture with a quote from Representative Dent last night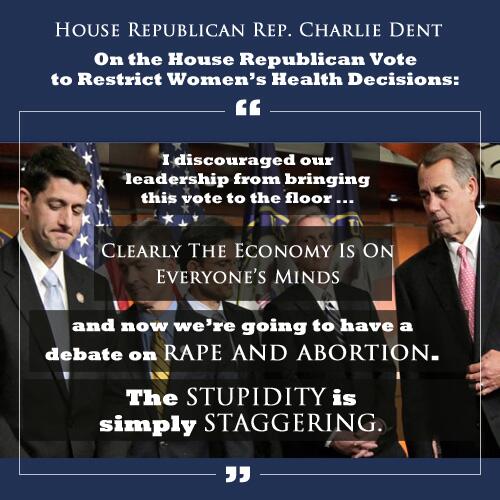 Clearly the Republican leaders didn't listen to Dent.  They love to have votes on abortion, birth control and, the favorite – repealing the Affordable Heath Care Act instead of actually passing measures that might also pass in the Senate and get signed into law.
The measure, which would ban abortion after 22 weeks of pregnancy based on the medically disputed theory that fetuses at that stage of development are capable of feeling pain, passed in a 228-to-196 vote that broke down mostly along party lines. Reflecting how little common ground the two parties share these days, just six Republicans voted against the bill; six Democrats voted for it.

"I'm not waging a war on anyone," said Kristi Noem, Republican of South Dakota, offering a rejoinder to the Democratic assertion that Republicans have waged a war on women, a line of attack that harmed conservative candidates in 2012. "Regardless of your personal beliefs, I would hope that stopping atrocities against little babies is something we can all agree to put an end to."
How about stopping atrocities like cutting food stamps and voting against bills that would provide health care and jobs for after this child that you have "saved" is born, Representative Noem?
But, remembering the bad press from hearings where all the legislators and all the witnesses were men discussing birth control the leadership did show they can learn something.
The tableau in the House chamber on Tuesday was intentionally far different from the scene last week at a meeting of the House Judiciary Committee at which all 19 of the Republicans arguing for and then voting to approve the bill were men. Republican leaders made sure that their female members were front and center for the debate this time.

Representative Virginia Foxx, a North Carolina conservative and Tea Party favorite, and Representative Marsha Blackburn, a longtime abortion opponent from Tennessee, were assigned to manage the floor debate. Representative Candice S. Miller of Michigan and Representative Ileana Ros-Lehtinen, one of the Republican conference's more moderate members, controlled the gavel.

But the simple math was difficult to ignore. Only 19 of the 234 Republican House members are women. Nearly all of them spoke on Tuesday. Only three Republican men were allowed to participate in the debate. Notably, Trent Franks of Arizona, the bill's sponsor who last week caused an uproar after claiming that instances of pregnancy after rape were "very low," said nothing from the floor.
I think that 22 weeks is getting close to the time of viability which most see as 23 to 26 weeks.  As bills move ever closer to that line,  those of us who agree that women have a right to choose to continue the pregnancy or not will be faced with a difficult question and one that we need to be prepared to answer: where, if anywhere, should the line be drawn?
Even if Democrats believed the political upper hand was theirs as they used the issue of reproductive rights to portray their opponents yet again as hostile and indifferent to the needs of women, it was clear that the question at hand — the termination of pregnancies that are five months or more along — was an uncomfortable one.

At a news conference Tuesday morning led by Democrats who favor abortion rights, the mood quickly turned tense after two journalists tried to press the representatives about their support for late-term abortions. Representative Diana DeGette of Colorado cut off questions after being asked whether she would draw the line at legal abortion later in pregnancy. "The Supreme Court has spoken, and this bill is unconstitutional. Next question," she said.
As medical science advances, the time limits laid out in Roe v. Wade may no longer hold.  There are medical and social costs to having a child born at 25 weeks.  In a 1997 story, the New York Times reported
"At the time of Roe vs. Wade it was around 26 weeks pregnant," Dr. Ezra Davidson, past president of the American College of Obstetrics and Gynecology, said. "It has come down a couple of weeks since that time."

But many babies who survive birth at that stage have terrible problems.

"You have to temper any discussion about viability because though you may get into a 24-week period, or a 23-week period, a large portion of those infants are going to have serious disabilities," Dr. Davidson said.

Most experts believe that the current limit of viability is 23 or 24 weeks into the normal 40-week term of pregnancy. Babies born at this stage are known as micropreemies and are extremely fragile. The typical micropreemie weighs 500 to 600 grams — slightly more than a pound — and can fit in the palm of a hand.

…

According to the American College of Obstetrics and Gynecology, fewer than 40 percent of infants born from 23 to 25 weeks' gestation survive.

Moreover, Dr. William Taeusch, chief of pediatrics at San Francisco General Hospital, said: "That's strictly survival. That's getting out of the hospital alive, usually at three months, at a cost of hundreds of thousands of dollars. And if you get out of the hospital alive and you haven't had major problems, then your chances of having a normal brain are 90 percent."

But according to the obstetrics and gynecology group, nearly 50 percent of surviving children who weigh less than 750 grams at birth experience moderate or severe disability, including blindness and cerebral palsy.
Things haven't really changed a great deal since 1997.  This is from the Wikipedia article on fetal viability.
Of course, most women who don't have late term abortions have a full term baby.  This means the mother and hopefully father need to have jobs and assistance in caring for the baby for the next 18 years – the kind of assistance the Republicans often vote against.  It means available contraception so women aren't faced with the choice at all.  It means sex ed  beginning in middle schools that includes information on what it is like to care for a baby.  (What happened to those programs where teens had to care for a doll that was life-like and demanded diaper changes and feedings 25/7?)
I personally have problems with late term abortions that are not for medical reasons – either the mother's or the child's.  But I also think we should be spending what is needed to make sure those children are fed, educated and not abused.  And I understand why sometimes the decision is so late.
Jessica Valenti has column in the Nation thinking through many of these issues, but it is her conclusion that sticks with me.
Abortion is complicated, as are our lives and health—and the fact that these  choices are so complex and nuanced is precisely why we can't legislate them.  Wishing otherwise will never 
make it so.
Related articles